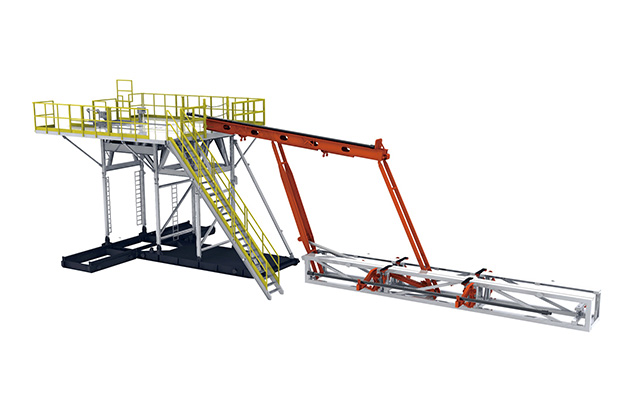 Specifications
Model
JDM127/4.5
Applicable Pipe
Drill Pipe mm (in)
60-127 (2 3/8-5)
Tubing mm (in)
60-127 (2 3/8-5)
Pipe Length m (ft)
9-10 (29.5-33)
Max. Lifting Capacity kN (lb)
5 (1,130)
Drill Floor Height m (ft)
4.5 (15)
Operation Mode
Wired Control or Wireless Control
Time from Ground to Drill Floor
≤50 s
Time from Drill Floor to Ground
≤25 s
Qty. of Pipe Handled One Time
1
Description
•
Automatic transfer of the drilling tools between the ground and floor reduces labor intensity and improves efficiency and safety.
•
Intelligent electro-hydraulic control system is integrated with the functions of study record, semi-automatic operation and manual operation.
•
Capable of quickly lifting and lowering drill pipes, improving operational efficiency.
•
The lifting height and extension range are available to be adjusted as per wellhead height and the well site arrangement.
•
Optional one-key control helps realize automatic operation, more convenient.
•
Optional remote control and manual control.